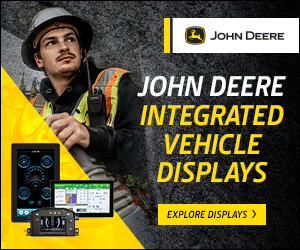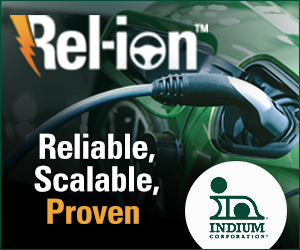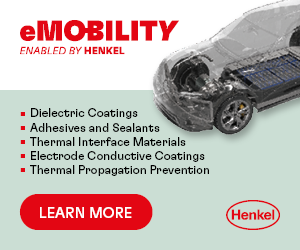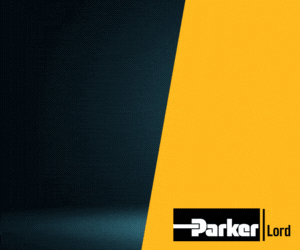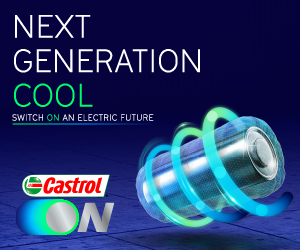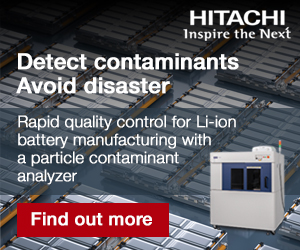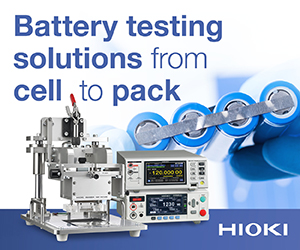 Battery Show Europe 2021
Fire department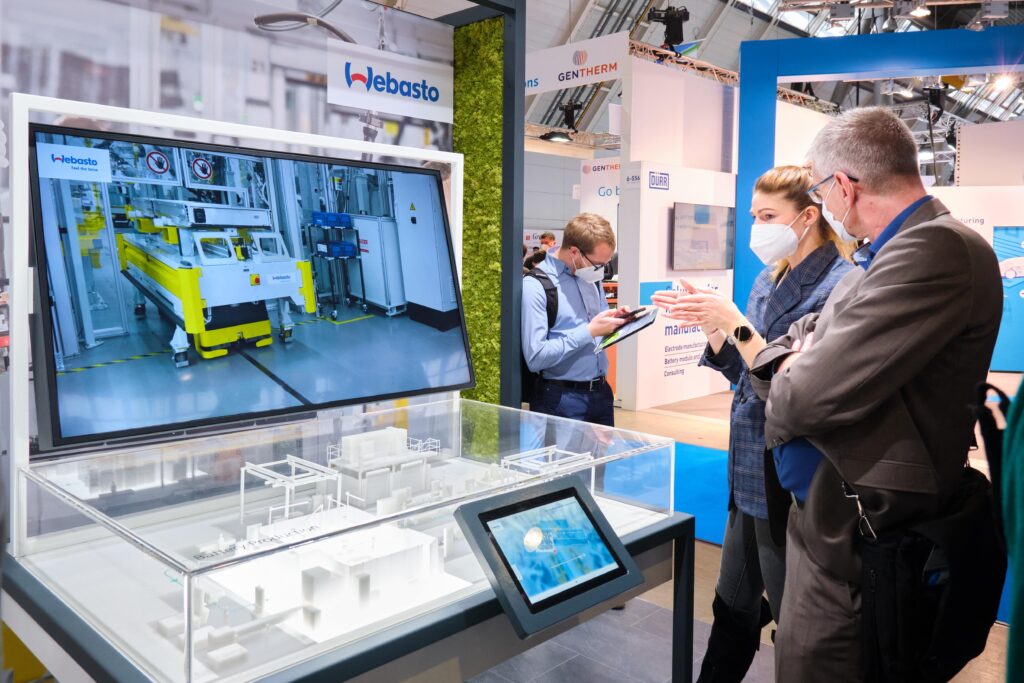 Peter Donaldson reports with highlights of this show, at which ways of containing thermal runaway were at the fore
If there was one theme that shone out from conversations at the Battery Show Europe and the co-located Electric & Hybrid Vehicle Technology Expo, which took place in Stuttgart late last year, it was the urgent need to develop ways of containing thermal runaway in lithium-ion batteries.
The urgency is being driven by requirements embodied in Global Technical Regulation (GTR) 20 covering EV safety, in particular the Chinese regulation that stipulates a minimum 5 minute escape window between the sounding of an alarm and fire from the penetrating an EV's passenger cabin. Industry also anticipates more severe regulations in the near future, and many people we spoke with emphasised that meeting them will require close cooperation among materials suppliers, battery makers and vehicle OEMs in particular.
"We assume GTR 20 will be modified or replaced soon because the ultimate goal should be more than giving EV passengers five minutes to escape," said Carsten Jansen, of 3M, which has 51 'technology platforms – materials, processes, capabilities and applications – to draw upon.
"When it comes to a thermal runaway, we are trying to combine as many of our technology platforms as we can, to be as holistic as possible in meeting customers' technical and commercial requirements," he said.
One example is using technical ceramics with a variety of other materials, the processing of which 3M has considerable experience. "We are talking about solutions using tapes or adhesives in combination with technical ceramics to target GTR 20 requirements," Jansen said. "We are supplying solutions for under the battery lid, under the module lid, and between battery cells, both pouch and prismatic."
One such solution on display at the show was in the form of a ceramic fibre mat for use between prismatic cells, a material that can be modified to specific requirements and processed by 3M to ensure it will work with a customer's application machinery.
"We are also offering solutions for cylindrical cells, which might see increased use in the coming years, and not only by Tesla," Jansen said.
Modules or packs made up of cylindrical cells are more geometrically complex shapes, so getting thermal containment material between the cells needs a different approach, Jansen emphasised. He added that the materials for this are preferably liquids that can be pumped into these complex spaces.
"The liquid flows in and cures, and it helps conduct heat away normally but then maybe also acts as a barrier in a thermal event," Jansen said.
Such dual-purpose and even adaptive materials are increasingly important to the industry, and are an area of active r&d for 3M, Jansen noted. "The industry is using different fillers to enhance structural adhesives with either thermal runaway containment or thermally conductive properties," he said.
He added that whoever is first with phase-change materials that dissipate heat in normal operation but contain it the event of a thermal runaway will have a big advantage.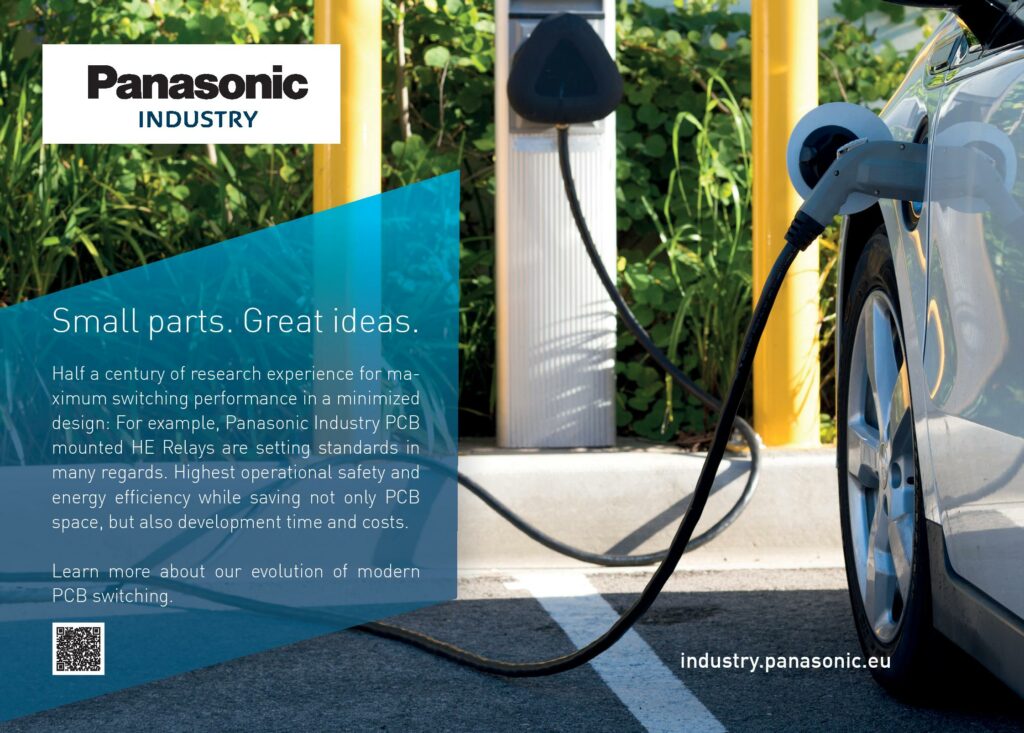 Frank Kerstan of Henkel told us, "The OEMs and Tier 1 suppliers are, let's say, struggling to comply with this Chinese regulation and are looking desperately for solutions that are compliant, cost-effective and can be applied in a more or less automated way," said.
"That's why we recently developed a new coating that can be applied to the battery top cover, inside and outside, that prevents fire from getting out of the battery pack."
This is Loctite EA9400, a two-component epoxy that forms a thermal insulating layer when exposed to high temperatures and has excellent adhesion even to e-coated metal.
Although Henkel has a broad base of material chemistries, including silicones, epoxies and polyurethanes, upon which to draw in developing a material able to withstand temperatures up to 1000 C, it was still a difficult task, Kerstan said.
"The main challenge was the short time that we had from our customer to implement the solution and test it," he added.
To ensure the coating can be economically applied at large scale, Henkel turned to process experts at Atlas Copco.
"We are talking about several thousand packs per year where this coating will be applied, so another challenge was to make the process easy and fast," Kerstan said. "The solution is automated flat stream application with a robot, which I think is perfectly in line with short cycle times."
Henkel also offers a water-based alternative, Loctite FPC 5060, for use inside battery covers, which has undergone tests in-house and by an independent institute, he says.
"Delaying the progress of a fire is also the objective with other technologies, such as foams for example," Kerstan said. One family of these is Fermapor HS polyurethane-based two-component rigid foams with flame-retardant properties, which are approved to the UL-94 V0 standard. "Cylindrical cells for example are embedded into this thermal propagation prevention foam."
Fermapor HS foams can be automatically injected into the battery at defined potting points in the cavities between the cells, according to the company.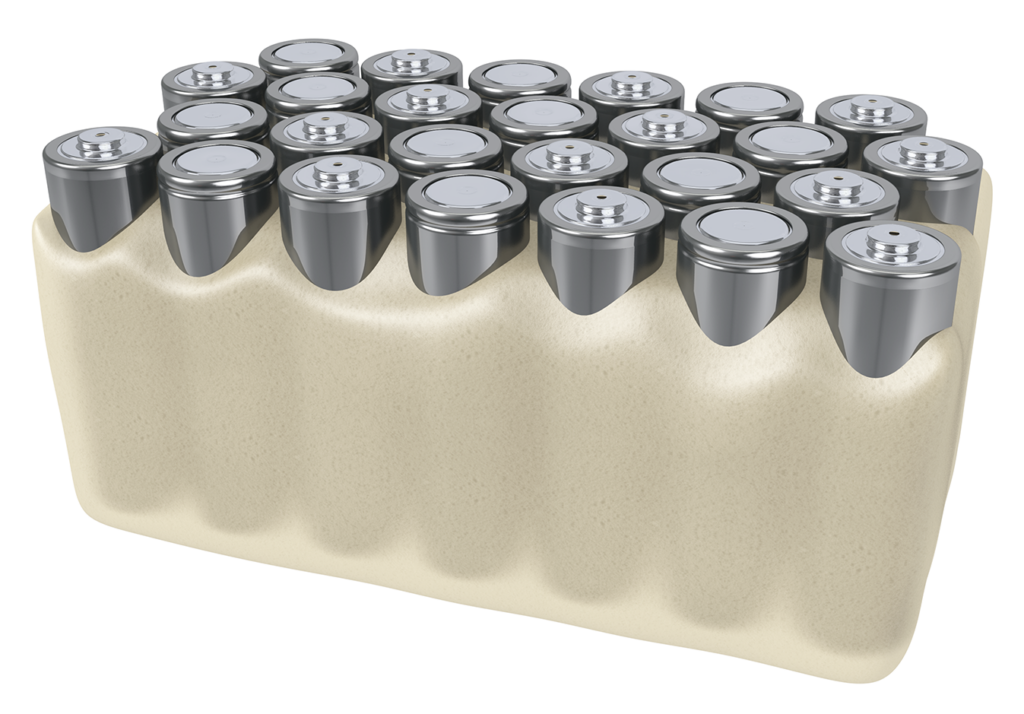 Mike Champa of electrical and thermal insulating materials and engineering specialist Electrolock reported that the company has recently conducted tests on a thermal runaway protection material called Go-Therm, which is a highly flexible silicone-based polymer with a fibre glass backing on one or both sides.
Testing completed before the show revealed Go-Therm's ability to stop completely the ejecta from failing pouch and 18650 cells. Further tests on 21700-type cells are planned for the first quarter of 2022.
"We are working to compare this material to others, like silicas, ceramics and micas," Champa said. "What we see with these types of materials is that ejecta from a cell will typically blow a hole right through it, but when you expose Go-Therm to the same ejecta from the same cell, it resists penetration.
"We have exposed Go-Therm to a 2250 C flame for 60 seconds and it did not burn through."
Electrolock next plans to continue this side-by-side testing against other material options. It also plans to share these results and show the samples afterwards.
Champa added that Go-Therm is highly flexible, easily fabricated and available in several thicknesses. "It's a little different from everything else out there," he said. "We are offering it as an option for cell-to-cell, module-to-module and battery pack perimeter protection."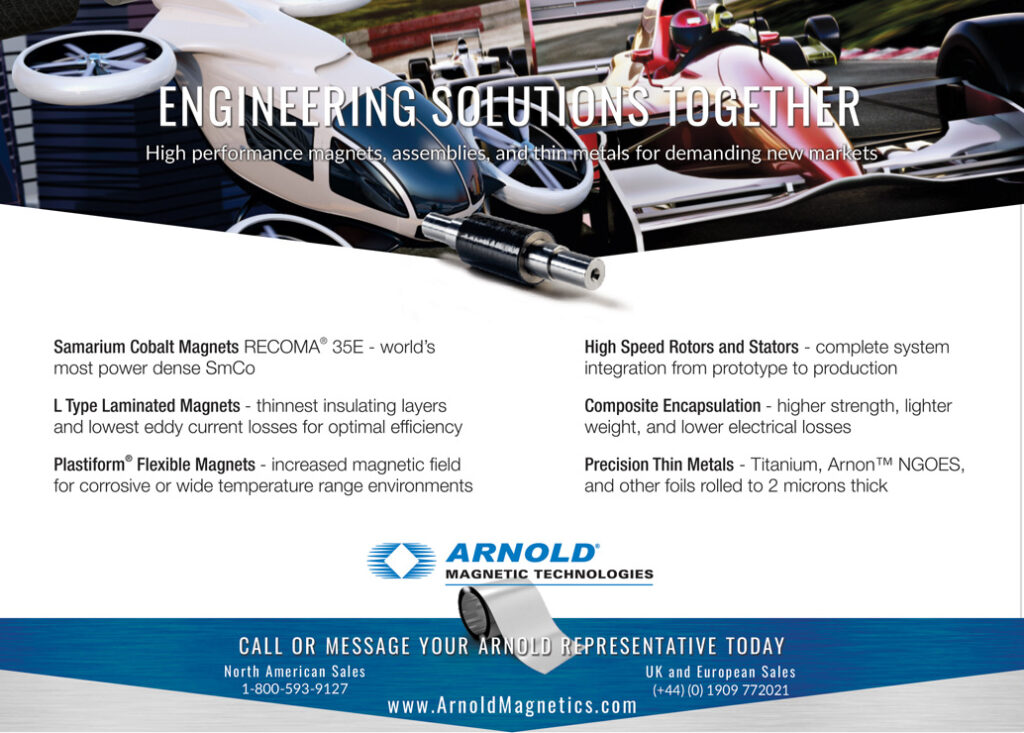 Painting and coating specialist Alro displayed as the centrepiece of its stand at the show an Audi e-tron battery case, a large aluminium casting treated with one of the company's e-coat materials. It also introduced a new fire protection coating that can be sprayed onto metal as well as polymer battery cases.
"We were asked to apply an e-coating against corrosion, and then to selectively remove some of it to create the Faraday cage," said Patrick Rogall. The Faraday cage effect protects the vehicle systems and occupants from electric fields generated inside the battery, as well as protecting the battery itself from external influences, he explained. The effect relies on a good electrical contact between the case and the lid, so the coating was selectively and precisely removed in key places using laser stripping.
The fire protection coating is a polyurethane-based material that withstands temperatures up to 1800 C for 30 minutes, exceeding current GTR 20 requirements, Rogall said. One method of application is to spray the system onto the inside of the battery cover using a robotic process, and the material can be applied as a 350 micron coating and also in multiple layers. When exposed to high temperatures, it expands to form a thick insulating layer that, in combination with a proprietary temperature-reducing mesh, keeps the underlying metal from reaching its melting point.
The coating can also be applied to plastics, which could become increasingly important as the industry is working hard on polymer cases for EV battery packs in the pursuit of reducing weight and cost.
In addition to the above processes, Alro offers services including wet painting, powder coating, component pre-assembly, foam and sealant application, pressure testing as well as integrated logistics.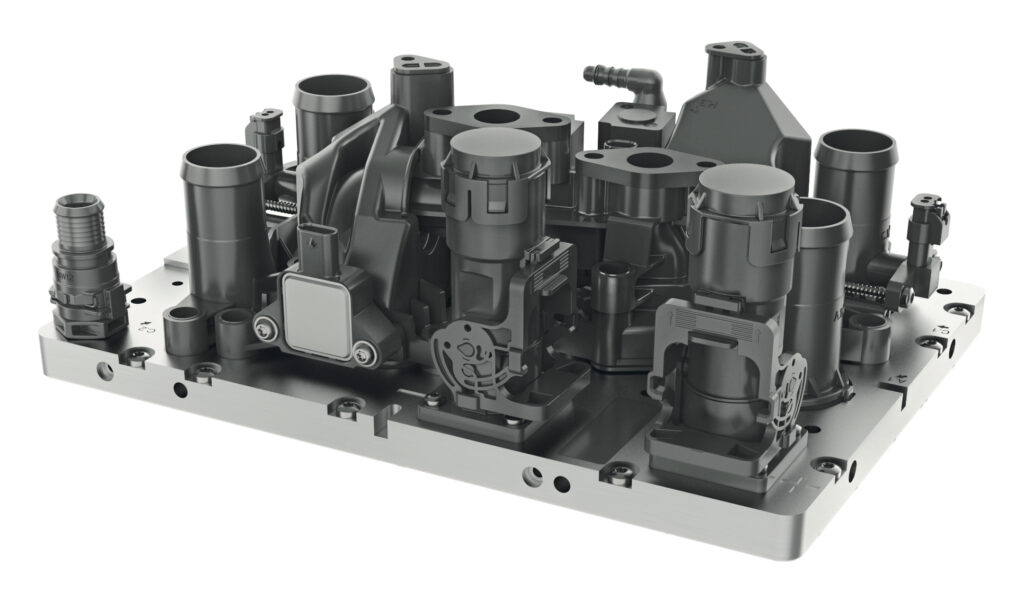 An EV battery case was also an eye-catcher on DuPont's stand, this time a stylised display piece designed to show the broad range of structural materials, adhesives, gap fillers and interface materials on offer. Prominent among the structural plastics were the company's Zytel family of polyamides and its Crastin family of polybutylene terephthalate (PBT) materials.
The case contained a variety of thermal management components, electrical connectors and structural components for battery assembly, particularly mouldings. Among the thermal management components for example were cooling lines and a quick connector, which can be made from several grades of Zytel, and a cooling plate from Zytel HTN high-temperature nylon.
Of particular note was an immersion cooling module with cells immersed in dielectric coolant fluid and the structure made from a combination of Zytel PA66, Zytel HTN, Crastin PBT and Vamac AEM, which is an ethylene acrylate polymer.
"You always have to watch out for compatibility of the plastic with the fluid, making sure that the properties of the fluid remain constant – the thermal exchange properties in particular – with no migration of conductive agents into the fluid," says Giacomo Parisi.
Crastin and Zytel can also be used to insulate electrical connectors such as the terminal connectors outside the battery pack for the busbar, relays and switches, most of which have to be orange as a warning about the high voltages they carry.
"A crucial point is to make sure that the orange remains orange and does not turn brown," Parisi said. "We work with different pigments to make sure it is the colour that the OEMs want, and that after 1000 hours that the 'delta E' – the difference between the original colour and the colour after ageing – is within limits. They also have to retain their very high electrical insulating properties over time and temperature."
Parts from real customer applications on display included structural items such as a housing for a battery module made from flame-retardant Crastin PBT, which also combines rigidity with toughness against shock, Parisi explained.
Another customer item was a stator from an axial flux EV traction motor, with Zytel HTN used for the casing and for the bobbins that support the windings.
A third was a fuel cell stack showing extensive use of Zytel HTN. "Here it is critical to have a material with very high purity to ensure there is no reaction with the fuel cell medium and stack membrane."
Testing involved ageing the plastic in hydrogen at different temperatures, and checking to make sure there was no migration from the material into the hydrogen.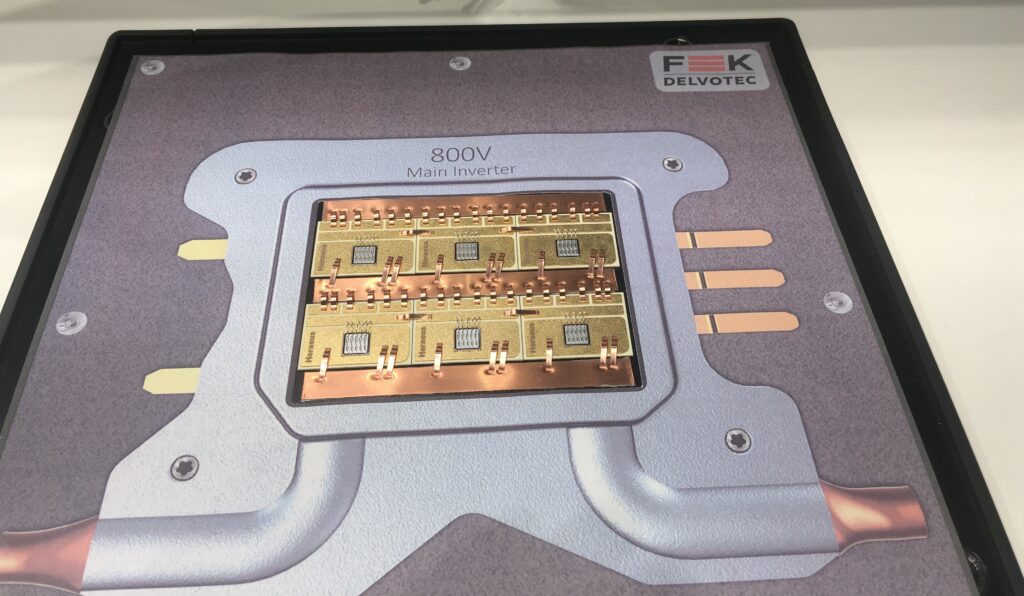 With the trend towards ever larger battery modules, laser welding is taking over from ultrasonic welding as the preferred means of making secure hardwired connections within battery modules, as ultrasonic welding is reaching its limits regarding material thickness, for example.
This led F&K Delvotec, a company which supplies ultrasonic welding equipment, to add laser welding systems (the M17LSB Laserbonder family) to its repertoire 6 years ago, the latest of which is the DelvoLAZ displayed at the show.
Thanks to its working area of 1.5 m x 50 cm, the DelvoLAZ is capable of making bonded connections on very large modules, Dr Hans Georg von Ribbeck told us. It offers two basic types of bond function, ribbon bonding and tape automated bonding (TAB).
"We have a bond head that moves in three dimensions and can be rotated to create welds, with ribbons extending in all directions and also spanning height differences," Dr von Ribbeck said.
This bond head contains a wire spool, the optics, the laser itself and the clamping mechanism. The clamping mechanism is a special feature, he said, because the head only has to clamp to one spot. "We have an individual clamping point that moves with the laser head, so we always have zero gap and a consistent focus height."
Single-point clamping means that the DelvoLAZ has the same flexibility as an ultrasonic wire bonder, Dr von Ribbeck said. However, it is more flexible when it comes to surface conditions, as they don't have to be as clean as for ultrasonic welding. He added that battery module assembly needs less rigidity because the welder only pushes on them.
"We also contain the spatter. With laser welders you always have flying sparks and particles, but these are contained within the clamping tool."
F&K Delvotec also displayed a battery for a Formula Student racecar featuring laser TAB-welded connectors with a nickel coating, which had been bonded using a Laserbonder. The connections have an interconnection resistance of less than 0.3 mΩ.
Each connection is tiny but shows a clearly defined weld geometry, a circle for the positive and a minus sign for the negative. "We touch down with our bond tool and then the laser scans using a mirror system to create laser weld geometries that are the most suitable for each connection." Battery manufacturer Akku Power showed its latest Akku Pack expandable 48 V battery packs at the show. They are targeted at small vehicles such as e-scooters and tuk-tuk-sized tricycles and quads used for local delivery of small, time-sensitive items, at energy storage for domestic solar power systems and even at tools with high power demands, such as welders.
Rolf Heiner explained that the market is expanding rapidly, and that it is important for battery makers to be more flexible and design-oriented.
"All e-bike manufacturers want to house the batteries inside the frame," he said. "They also want flexibility in pack design to allow them to add more capacity easily, enabling them to offer larger replacement packs or expandable ones, particularly in the cargo bike sector."
The Mobile Drive and the Home Exchange systems use the same modules, which can be combined into packs with capacities of 1-10 kW and are built using 21700-format cylindrical lithium-ion cells. They also have grab handles to make quick battery changes easier.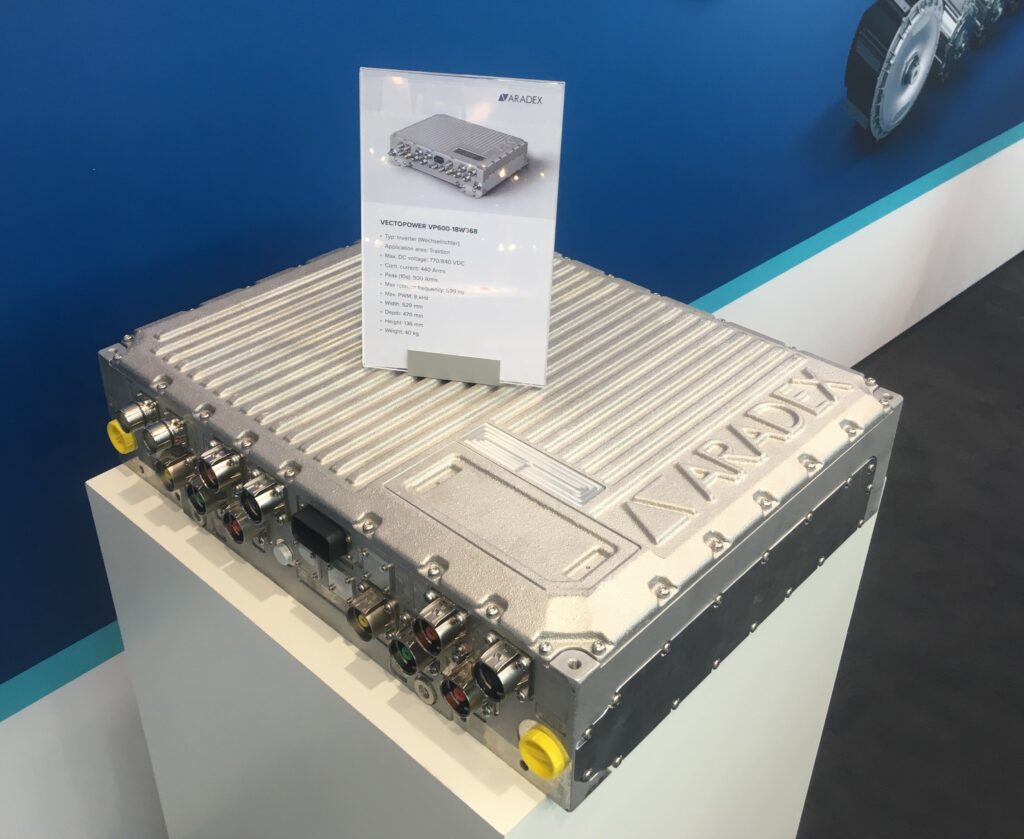 Aradex had two of its latest liquid-cooled Vectopower Series 3 inverters on display. The VP600-18W360 is designed to drive traction motors and auxiliaries, while the larger VP600-18W368 is intended for traction motors. Introduced in 2020, they are now in series production and in service around Europe, said Juli Hemming Bareiss.
The Stuttgart-based company designs and builds complete electric drivetrains for on and off-road vehicles above 3.5 t, for mobile working machines and for the marine industry. It develops and builds inverters and HV-DC-DC converters in-house and contracts out motor manufacture.
Both inverters have a maximum output voltage of 770-840 V DC, a maximum PWM frequency of 8 kHz and support rotation frequencies of up to 599 Hz. Rated at up to 200 kW, the VP600-18W360 can deliver a continuous current of 250 A rms and a peak of 525 A rms for 10 seconds; it weighs 19 kg. The VP600-18W368 weighs 40 kg, delivers continuous current of up to 440 A rms, with peak current up to 900 A rms.
"The VP600-18W368 is actually a double inverter hardwired in parallel for truck and bus applications – around that size of vehicle – and it provides up to 300 kW," Hemming-Bareiss said. "All our products have an integrated PLC so the customer can program the inverter or DC-DC converter."
For high-speed applications the VP600-18W361 and VP600-18W369 support rotation frequencies of up to 1999 Hz.
One inverter enhancement Aradex has integrated is the safe-torque-off function required by the Machinery Directive 2006/42/EC. This ensures that in the event of a fault such as a short-circuit in the drive system, for example, no torque is delivered and the vehicle cannot move in an uncontrolled manner.
A new, fully ISO 26262-compliant Vectopower-S is due out in 2023. Bareiss said, "That will have voltage ranges up to 900 V and will be a bit smaller and lighter."
While the inverters use IGBT-based power semiconductors (with FPGA-based control circuits), the company is working on a high-voltage unidirectional DC-DC converter based on silicon carbide MOSFET technology, which is designed for fuel cell applications.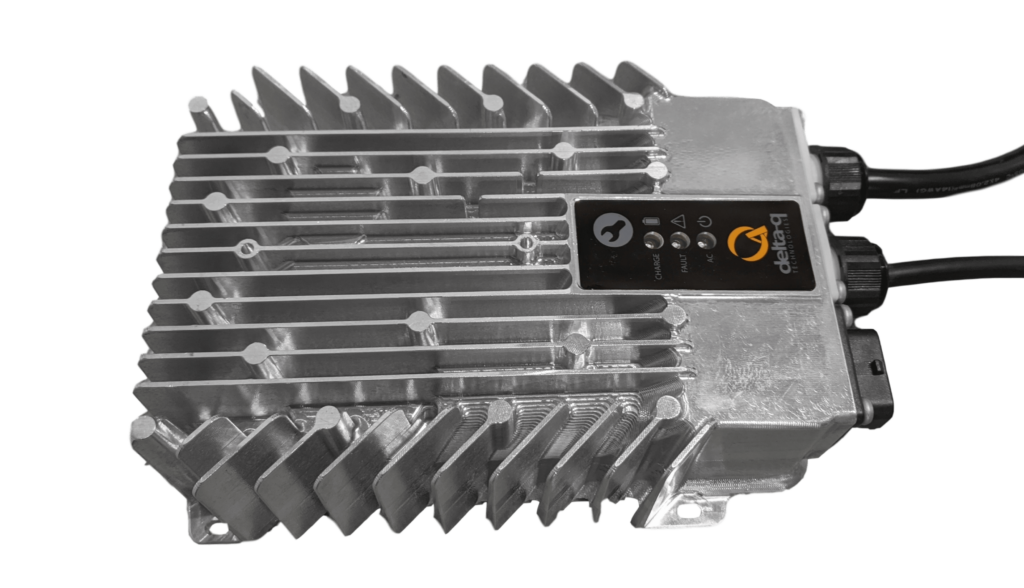 Ride-on floor polishers, small motorcycles and wake boards might seem to have little in common, industrial battery charger specialist Delta-Q Technologies found that they are fairly close in terms of power densities and energy requirements, and showed us its RQ350 as part of a family of onboard chargers, which it is offering across those markets.
Robert Stavrevski explained the thinking behind the RQ350. "We want to find the best match between different segments, and this product is a good match for floor care, marine sports and small e-mobility two wheelers," he said.
With DC output voltages of 12 , 24 , 36 and 48 V, the RQ350 can charge batteries with up to 19 lithium-ion cells connected in series. At 12 V, the maximum output power is 220 W, with the full 350 W available from 24 V up.
The core functional blocks, explained Hendrik Witterzeel, are the AC input, the power factor correction circuits for maximising the efficiency with which the charger uses the power, a solid-state transformer and a rectifier for the DC output.
Finally, there is a set of capacitors to minimise voltage and current ripple, and filters to protect against EMI. "With the ripple we try to be within a limit of 0.5% on voltage and up to 2% on current."
The larger tolerance for current ripple permitted by the regulations is to allow for burst mode charging, he explained.
Protection from dirt and water ingress is to the IP66 standard, limited by the presence of the bore vent needed to prevent derating at higher altitudes. The RQ350 charges to full power as high as 4000-5000 m, Witterzeel said, but without the vent would begin to derate at 2000 m.
As with most of the rest of the range, the new chargers communicate over CAN and no longer include a USB port, as Delta Q found that most customers never use them. Further, in most vehicles the charger is now a subordinate device on the network and is controlled by a charging algorithm that runs on an ECU or the BMS.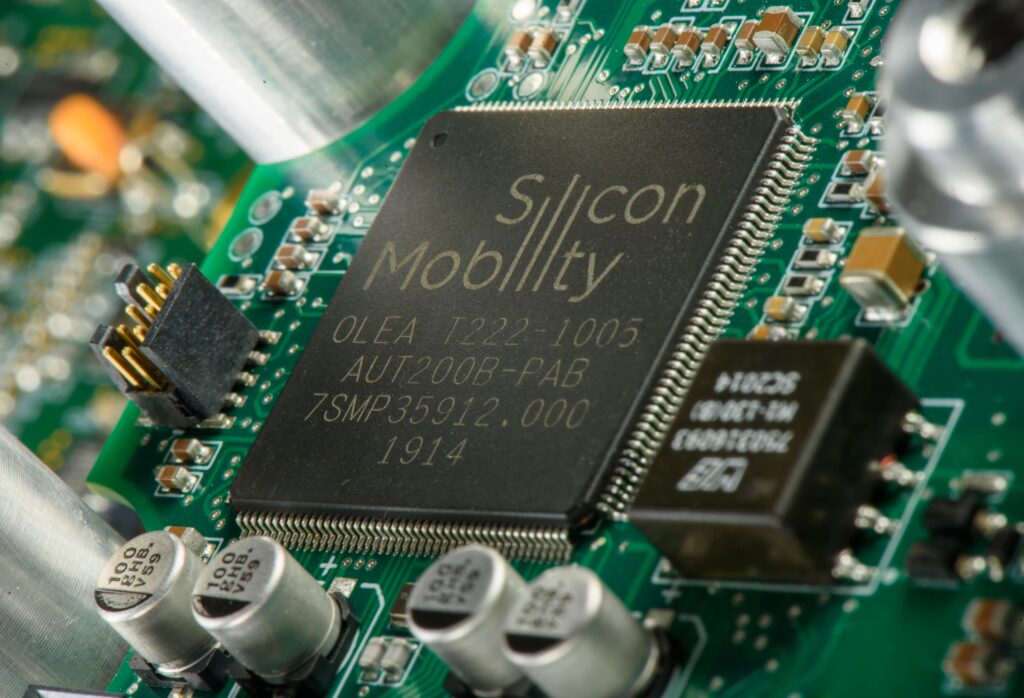 Embedded control processor specialist Silicon Mobility showed off its new OLEA T222 field -programmable control unit. A system-on-chip (SoC) device designed specifically for use in EVs, it provides control functionality for inverters, motors, onboard chargers and DC-DC converters, with one SoC for each vehicles.
A deep understanding of how the inverters, converters and motors work, along with their strengths and weaknesses, is built into the system's control logic.
"What we are doing is modelling the inverter and electric motor for example, and seeing where the losses occur," said Chris White. "Then, through optimum pulse pattern modulation, we drive the inefficiencies out by increasing the efficient operating range. With the efficiency gain, OEMs can increase the vehicle's range or reduce the battery size."
The chip itself has a unique architecture, he noted, being organised as two processing units surrounded by real-time safety-critical functionality.
The first unit is essentially what could be found in a conventional microcontroller, with an ARM core running all the high-level software applications. The second is a flexible processing unit based on programmable logic and configurable interfaces. Combining these on one piece of silicon also provides a big saving on the bill of materials over a conventional architecture, White added.
Pilot production quantities were due for delivery last December, with series production scheduled to start in January for an unnamed Chinese customer. "The initial application is e-motorsport, and then it is due to go mainstream with an OEM," White said.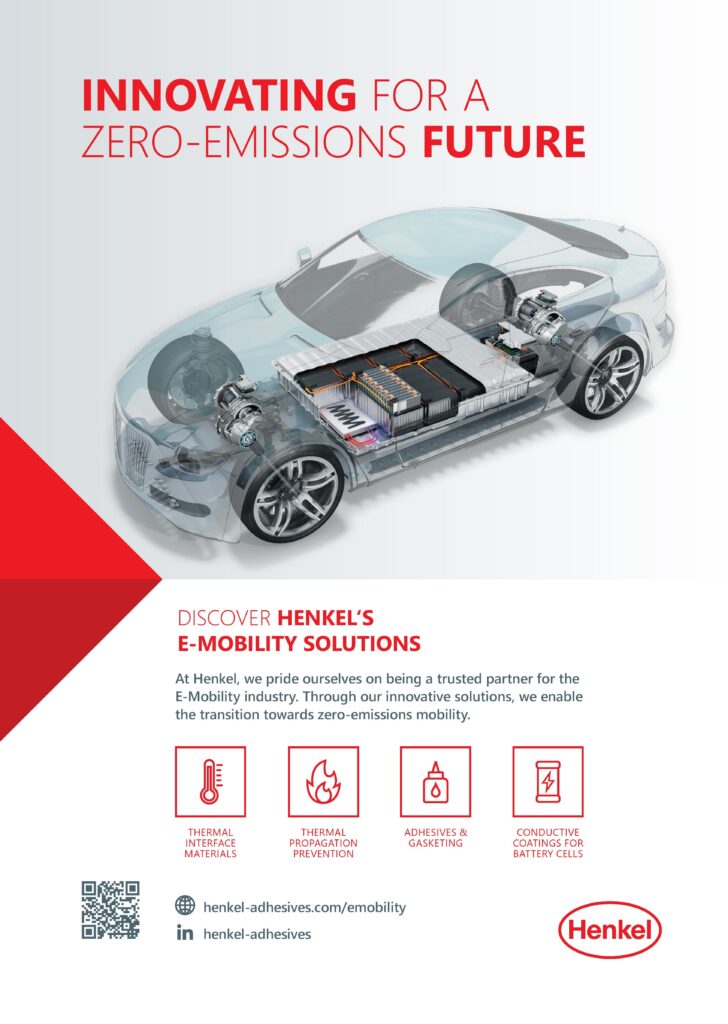 ONLINE PARTNERS